Attract more finches in your yard by creating the finch-friendly feeding spot!
Do you love to watch birds and want to attract more finches in your garden? If so, then you need to feed the finches in the best possible way. Feeding finches is more than just putting seeds it requires the best finch feeder which helps attract birds.
Finch feeder has small and thin ports that can hold bird seeds and keep your backyard finches full as well as happy. Further, the feeder helps live up your area with the melodious chirping of beautiful strawberry finches.
There are myriad options of finch feeder to choose from and sometimes it becomes a bit confusing to select the best finch feeder. To help you, we have curated a list of seven best-rated finch feeders that are easy to clean, easy to fill, and safe for birds. Our finch feeder reviews will help you to buy the best finch feeder for your yard. Have a look!
Best Finch Feeders Reviews
Brome Squirrel Buster Finch Squirrel-proof Bird Feeder
Are you getting tired of losing bird seeds to squirrels?
If yes, then Brome Finch Feeder is for you. It is the best finch feeder that comes with the wire-mesh frame, which covers the seeds and helps keep the squirrels out. This tube-style feeder can hold up to 1.4 quarts of seed at a time. Further, the Brome finch Feeder features eight feeding perches and provides an 18-inch/47-cm clearance when hanging.
The best part is that it provides a great value to your money and represents a sound investment. Being made up of chew-proof material it is completely safe for colorful zebra finches. At the top of that, the unique design and comfort level of this feeder welcome birds every day.  All in all, it is one of the best options for you because it offers a little more than any other basic feeder.
Key features:
Wire-mesh frame
Chew proof material
4 quarts seed capacity
Eight feeding perches
Easy to fill and easy to clean
Perky-Pet Yellow Straight Sided Finch Feeder
For the beautiful and loving finches, we recommend you to buy this finch feeder because it contains no plastic and wood. It has steel wire mesh, which makes the feeder more functional and useful that helps to attract the finches. It can hold about 1.5 lbs of nyjer seeds.
Further, this item from the house of Perky Pets made from durable, high-quality material that is eco-friendly as well. In addition, this finch finder comes with an anti-rust powder coating.
When talking about functionality, the dish at the bottom of the mesh tube offers finches an additional place to perch and eat. Also, this tray fills up with both seeds as well as the husks which means less waste and leaves the ground underneath the feeder clean. Moreover, the tray has tiny holes that help in de-moisturizing the seeds, and the feed stays fresh for a longer time.
Having this finch feeder with Even seed Technology allows seeds to distribute evenly and offer comfortable space to birds.
Key features
Anti-rust coating
Even distribution of seeds
Durable and high-quality material
Stokes Select Thistle Tube Bird Feeder
If a classic tube-style feeder is your choice, the Stokes tube bird feeder is a great option for you. This feeder can hold up to 1.6 lb seed and offers four feeding ports for birds. Not only is the design of perches unique but also comfortable and functional. There is an internal baffle that disperses seed evenly among the feeding ports.
This best-rated finch feeder is made up of high-quality polycarbonate materials that increase its durability. Further, the simple twisting base of this feeder makes it easy to clean and easy to fill finch feeder. Do you know that the six yellow perches help birds to sit comfortably when eating upside down.
Moreover, the seed ports are very tiny that save the feed from squirrels while allowing easy access to finches. In our opinion, this is the best finch feeder for you to keep the seed in the right place rather than on the ground.
Key features
Disperse seeds evenly
Easy to clean and easy to fill
Comfortable six perches
Durable and finch-friendly
Perky-Pet Solar Lighthouse Finch Bird Feeder
Are you sick and tired of squirrels taking out the bird feed from your finch feeder?
If yes, then you need the lighthouse style finch feeder from Perky-Pet. Being covered with steel-mesh, it protects the birds' feed from squirrels. Similar to the lighthouse for boats, this finch feeder also glows in the night. Do you know, that there is a solar cell at the top of this feeder that powers LED to create a glowing beacon at night.
When you hang this lighthouse shaped finch feeder with a unique and whimsical look in your yard, it will attract more birds and neighbors' attention as well.  Further, this beautiful finch feeder can hold up to 1.5 lb seed capacity and can feed around 15 birds at a time.
This finch feeder contains no plastic or wood there is an all-over metal mesh that makes it perfect for every bird lover. Lastly, the mesh wire design and attached perches attract both clinging and perching birds.
Key features:
The LED light glows at night
Contains no plastic and wood
Quality steel mesh
Feed 15 birds at a time
Gray Bunny Classic Metal Tube Feeder
GrayBunny offers premium quality finch feeder for your lawn and garden.  This is the best finch feeder because its parts including feeding ports, perches, and base, are made from chew-proof material. When you hang this feeder in your yard, it will keep seeds safe and secure while attracting more Gouldian finches.
Further, with this feeder, you can give six well-spaced feeding ports to the finches. Also, the multiple perches allow multiple finches to at a time.  Its enclosed circular tube can hold up to 4 cups of seeds and keep them fresh as well as dry for birds. In addition, the transparent housing allows you to see the level of seeds left in the tube so that you can refill when needed.
Lastly, GrayBunny tube feeder is great at attracting birds like finches, sparrows, goldfinches and more. Hang it in your yard, mounted near the patio or outside the room window to enjoy watching birds!
Key Features:
Durable and safe
Chew-proof material
Six perches for easy access
Prevent mold buildup
Woodlink NAWLNT Audubon Finch Feeder
Are you looking for the best finch feeder that can hold a great amount of seeds?
If yes, then look no further than Woodlink's aluminum finch feeder. This finch feeder is made up of a soft and durable mesh material that can hold one pound of food for finches. This is what we like about the Woodlink Feeder.
The holes of this yellow mesh feeder allow birds to eat with ease. Also, it attracts finches in large numbers as well as in varieties. The striking yellow coat of this feeder makes it look both durable and pleasing to the eye. In addition to finches, this feeder can attract pine siskins and more small birds.
Key Features:
Perfect for hanging
Soft and durable mesh
Can hold a pound of mix seeds
Window Finch Feeder
Increase the beauty of your home by having a window finch feeder. Putting up a window feeder outside the kitchen will give you immense happiness while watching birds playing and eating. You and your kids will love to watch the colorful finches from the window.
If you are in search of the quality window finch feeder, then the bird feeder from Nature's Hangout is a great choice for you. It is made up of high-quality acrylic material which is transparent and durable.  Due to the high transparency, you can see through the beautiful markings of the bird.
In last, this beautiful finch feeder has enough space where 4 or 5 birds can fit easily at a time. The best part is that this finch feeder also works as a wall décor piece for your home's porch. You can easily fix it on the outside wall in front of your kitchen window.
Key features
Durable and transparent
Easy to hang and easy to lean
Squirrel-proof and water-resistant
Types of Finch Feeders
Tube Finch Feeder
Tube finch feeder has a long tube in which you can place seeds for birds. It is one of the most common types of bird feeders in terms of functionality. Different tube feeders come with different port sizes, port numbers, and designs. Tube feeders are the best finch feeders because they can accommodate more birds at once.
Rotating Port feeder
Rotating port feeders give you the freedom to adjust the perch below the ports or above the ports to feed the finches, which can eat upside down. This system of feeding provides you a better bird watching experience.
Mesh Finch Feeder
Another best finch feeder is the mesh feeder. It works perfectly for clinging finches. Also, Instead of having ports, the whole surface area of this feeder is made up of mesh which acts as a port. This type of feeder is best for small to large birds. The mesh usually made of rust-resistant quality metal.
Sock Finch Feeders
This is the oldest way of feeding birds, which is equally popular these days. The thistle socks are made from a malleable and soft material that is friendly to the birds. They offer a large surface for the finch to cling or perch. You can hang it in your garden for loving finches.
Where To Place The Best Finch Feeder?
Placement of the feeder is as important as the feeder itself. Placing a feeder in the middle of the yard can risk finches from predators. However, birds feel safe if you hang the finch feeder near a shrub or tree. You can also hang the feeder near the patio, porch, or window.
Keep in mind that the location you choose to hang or to place finch feeder should have a clear view that is friendly to the finches. Try to keep a distance of about 5 to 8 ft between the ground and the feeder to protect finches from predators.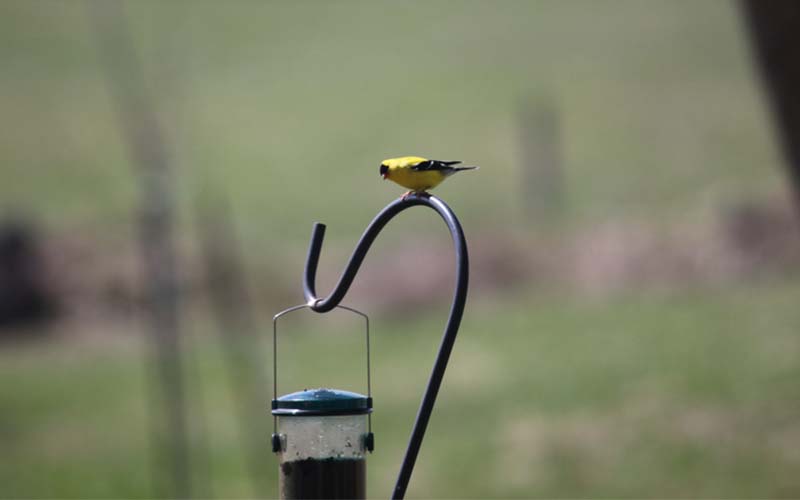 Things to Consider When Buying Finch Feeder
So, you are planning to buy a finch feeder for loving and colorful birds. There are many bird feeders available in the market with different features, designs, and sizes. Consider the following things when shopping for the best finch feeder.
Easy to clean
You should buy a finch feeder that is easy to clean and easy to fill as well. This is because finches won't come back to your feeder if it contains outdated and moldy seeds.
Versatility
The finch feeder should have a versatile hook so that you can hang it anywhere you want in your yard. If your bird feeder is limited to hanging on a specific location, then you may lose opportunities to attract more finches.
Capacity
Always buy a feeder that can hold at least one or two-pound of seeds because this will help to feed more birds in a day. Check the seed holding capacity of the finch feeder before buying so that you don't want to refill its feeder.
Conclusion
To attract beautiful and colorful finches, you need the best finch feeder that you can hang in your yard. Bird feeders not only fill finches, but also spared happiness in your garden. You will love to watch the beautiful birds playing, eating and moving around the feeder in your yard.
Give your finches a safe place to eat and play by choosing the best rated finch feeder from the list mention above.