Birdwatching and landscaping can be very interesting, and many homeowners love to enjoy the view. This can be difficult if you don't plan properly. One way to do this seamlessly is with a birdbath fountain. The device looks simple but can provide an area for birds to come and sip some water or take a bath. It also gives homeowners a stunning view of wildlife while increasing home value as well.
With a constant flow of water, the best solar bird fountain will be less prone to pests, a lot safer and easier to clean off than a regular bird bows. These fountains come in different sizes, designs, colors, and shapes. The best part is that they are solar powered.
We made some research to help you pick the best solar birdbath fountain. In this review, we have compared different options to help you choose the most efficient and budget-friendly option.
How to choose the best solar birdbath fountain
When it comes to making a choice of the best solar birdbath fountain, there are some vital factors you must consider.
Design
The first is the design of the fountain. It is crucial to get a fountain that blends into the existing décor or gardens and feels natural as well. You can choose bright colors for an airy and light feel. Darker colors provide traditional style and elegance.
Structure
You need to consider the type of fountain to choose. Do you want a single or double-tiered fountain? The double tier fountain provides a better silhouette, but it may be a bit too bulky for the space.
Material
The next factor you should consider is the material used in making the birdbath. Ceramic, stone and reinforced concrete are perfect choices. Naturally, ceramic and stone are more expensive, but they offer a high-end feel when installed. Reinforced concrete may be lighter and more durable because of its engineered design. You may also come across birdbaths made of plastic.
This plastic option is not recommended because they can be damaged easily by sunlight. They also become brittle when UV rays touch them. Generally, when it comes to material, choose a heavier material as it may be of better quality.
Size and power
The last factor to consider is the power and size of the solar panel. Usually, larger panels offer more watts/power. It allows you to have better water flow as well as a more reliable birdbath. Bigger panels make the pump run seamlessly when there are low light conditions or clouds cover the sunrays.
The solar panel placement must be considered as well. Some pumps have their panels inbuilt, while others need a standalone unit placed near the birdbath. These options are ideal because the satellite panel will have more versatility and it will be easier to set up. Both options work well for whatever purpose.
How does the solar birdbath work?
Solar birdbaths work like regular birdbaths but are powered by sunlight. A solar panel is placed either inside the panel or the bowl of the birdbath, and it collects energy from the sun. The energy collected during the day powers the pump and keeps the water in the birdbath fresh.
Some birdbaths that are powered by the sun can be damaged during the cold weather so be sure to remove its solar insert. You can also use it with a birdbath heater. This will keep the water warm as well as the unit. Also, on cloudy days, some units do not have an electric option to enable plug-in power.
Product Reviews of the Best Solar Bird Bath Fountain
1. Smart Solar Acadia Solar Bird Bath
The Smart Solar Acadia has an underwater panel that gives it a less industrial and more natural look. When it is put on, it runs silently. It has a good design and may enhance the look of the garden. This solar birdbath is also low maintenance and may be ideal for homeowners who prefer to watch birds and other animals run around rather than cleaning a pump filter. The assembling of this fountain is also easy and straightforward. It can be put together in no time and without needing a technician.
Also, the fountain is built from glass fiber reinforced concrete. This makes it more durable and may last for many years even in tough weather conditions. The voltage pump is also silent as mentioned earlier. This may be a good option if you want a visually appealing fountain.
2. Smart Solar Somerset Verdigris Solar Bird Bath Fountain
The Somerset Verdigris fountain has an 18-inch resin bowl with a clean wrought iron frame. It has a rustic brown, green and black coloring that gives it a natural tone. It also blends smoothly with the surrounding foliage because of its open iron frame design. This solar powered birdbath may be an ideal option if you want a low-cost solution.
Apart from its aesthetic appeal, the Somerset Birdbath is also quite eco-friendly with its low voltage pump. Its integrated solar panel doesn't look so obvious as it was cleverly hidden under two inches of water. This makes it more natural. The spray nozzle also extends 3 inches in the air. This produces a soothing trickling sound as it shoots the water across the entire bowl.
3. Smart Solar Ceramic Solar Bird Bath
This glazed royal blue solar birdbath comes third in this review because of its aesthetic appeal. It has a sizeable 17-inch water bowl as well as an ornamental flower motif that gives it a unique look. The fountain is built with a top-notch pump assembly and solar panel. The pump assembly sits in the middle of the bowl. It can be removed with ease for cleaning or maintenance. It comes in 3 pieces, the base, the solar pump and the bowl, and must be assembled before use.
This may take a few minutes to fix, and the fountain weighs only 32 pounds. You can move it around the back of the house to ensure that it gets optimal sun exposure. The unit does not have a control switch to turn it off and on. It automatically pumps when the sunrays intensify.
However, the downside to this fountain is its sunlight sensitivity. A large cloud blocking the sun temporarily may reduce the pump power. It may return to normal when the sun returns.
4. Joseph Studio 62852 Tall Angel Sitting By Solar Bird Bath Statue
This solar birdbath from Joseph studio comes with a beautiful solar-powered LED rice light. The design is also aesthetically pleasing with a little girl angel sitting with a bird resting on her arm and the birdbath in the front. This may be a good option for homeowners who want an automatic fountain. The bowl is properly lit with the blue LED rice light, and its solar panel can be found at the rear end of the statue, completely concealing it.
However, this fountain must be stored in an unshaded area for up to ten hours to work properly. It turns off and on in the night and morning and can work for 6 hours when it charges fully.
5. Best Choice Products 2-Tier Solar Bird Bath Fountain With LED Lights And Integrated Solar Panel
The 2-tier birdbath fountain features a blossom and water lily engraving that stylishly curves around the bowl and base. You may also like the natural gray color of the fountain as it blends well with the natural elements. The blend of textures, colors, and style makes this a decent outdoor piece and birds may love it. It also has a rugged construction that may allow it to stand 40 mph gusts of wind with ease.
Also, the setup is quite easy, and it takes a couple of minutes before it can be up and running. It also has an automatic dial that puts it on and off. You can choose when it runs if you prefer a customizable birdbath experience. Its pump and solar panel are located on the tier at the top, and this may make it more efficient. It also comes with a rechargeable battery that lasts up to six hours when there is no solar power. It may come in handy during nighttime festivities and cloudy days. The LED lights glow as well in the evening to provide a beautiful lighting effect for nighttime bird watchers.
The box comes with four different water sprouts, and this gives you an option of choosing the best water effect for the landscape. If you want a burbling stream, a nice water halo or a vertical solar fountain, this may be a good option.
6. Solatec Solar Powered Bird Bath Fountain
This is one of the best solar birdbath fountains because it is budget friendly and efficient. It has an aesthetic appeal and also works well. The assembly is a breeze. All you need is a few minutes to connect the spray head and the base attachments and set it down in the birdbath pool, stand, or any other water body. The pump sprays water into the air in a few seconds. Sunlight may be all it needs to fire up and start running. It works well for a birdbath fountain of its budget.
As long as there is sunlight, the Solatec birdbath pump can spray water at 1.64 ft. high. A fishing line that comes with the solar pump is used in tying a heavy object below the pump so it can stop moving around so much. It has four nozzle heads, and you can easily refine its spray pattern for the visual display you prefer for your solar water fountain or birdbath. Generally, the solar pump may offer great value for its price. It is easy to maintain. All you need to maintain it is wipe its solar panel using a sponge or damp cloth. Also, you may need to check the pump from time to time to clean of the dirt that may accumulate on it. You must clean it regularly because dirt can reduce the ability of the panel to harness solar energy and even clog the water inlet of the pump.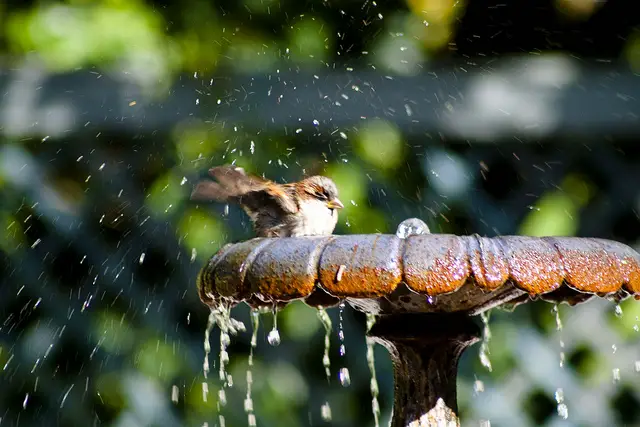 ---
Benefits of using a Solar Bird Bath
Why do you need a solar birdbath? beside Binocular and spotting scope A solar birdbath is an excellent way to create a personal bird watching sanctuary. They are very attractive and are low maintenance. Their inbuilt solar panel makes them safer because it reduces the risk of tripping on the cords or electric shocks. Most importantly, these fountains are energy efficient, and this means that they can work on cloudy or stormy days. Another good feature is their silent pumps. This feature is essential because a noisy fountain will drive birds away. The larger corded birdbaths may be too loud and can scare birds away. The solar fountains are a lot safer and offer a calm environment for the winged creatures.
One other reason to consider buying and installing a solar birdbath is to diminish microbial buildup. With a traditional still birdbath, it may be easy for mildew and mold to accumulate in the fountain bowl. Also, insect larva and mosquitoes prefer to breed in stagnant bodies of water. Solar pumps produce continuous flowing water, and this is ideal for deterring microbes and insects. Also, this creates a healthier environment for your family as well as your little-winged friends. After all, no one wants to breed mosquitos in their garden.
Final Thoughts
When you have full knowledge of how to choose the best solar birdbath fountain, it will ease the process of getting one. Be sure to compare all the functions and features alongside the price so you can pick one that is ideal for your own situation.
Our pick for the best solar birdbath fountain is the Smart Solar Acadia Solar Birdbath. It has a soothing light brown color with an olive green finish circling the base of the fountain and the bowl. The unit was made from glass-fiber reinforced concrete, and it comes with a whisper silent pump to keep the bird comfortable while resting or drinking. When you consider the features, price or build quality, it may be a good option.