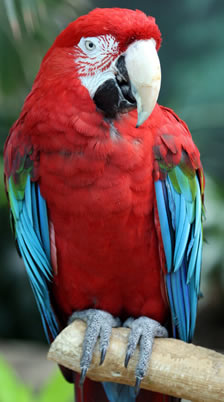 The Green Winged Macaw, scientific name Ara Chloroptera, is also commonly known as the Maroon Macaw or Red and Green Macaw. They are second only in size to the Hyacinth Macaw. The Green Wing is often confused with the Scarlet because of all the red coloring but can easily be told apart by looking at their backs. The Green Wing has a green band of color while the Scarlet has a yellow band of color across its back.
The Green Wing is one of the most colorful Macaws, bright red is the dominant color while the feathers near the body are dark red and turn green in the middle of the wing and the tips are lined in a bluish color. The tail is also a dark red with bluish tips. Their feet are dark grey and the iris is a pale yellow. These birds are between 25-36 inches long head to tail and have a soaring span of up to 49 inches. The Lovable Green Wing can tip the scale at over 1800 grams and have extremely powerful beaks.
The natural habitat of the green wing is Central and South America, running from eastern panama south across northern South America, east of the Andes to Brazil, Paraguay and Bolivia. They can be found in the rain forests and at clay cliffs running along the river banks. However, because of deforestation and the illegal pet trade, the Green Wing Macaw has been put on the endangered species list. It will probably only be through captive breeding that this lovable bird stays off the extinct species list.
Their main source of food is speckled sunflower, high in protein. They also consume white sunflower, shelled oats, corn seed, peanuts, pine nuts, hemp and buckwheat. You can supplement their diet with tropical fruit, vegetables and various nuts.
The Green Wing is a social bird and flock animal while they mate for life, in the wild these birds can travel in family groups of up to 100 birds. Even in such large flocks mates will stick close to each other. These Macaws are naturally active and spend many hours a day flying, playing and eating. In captivity, these birds still require a lot of activity and must be given ample playtime.
These birds are very lovable, intelligent, and inquisitive. This makes them great companions for a single person or a whole family, if the bird is socialized properly.
However, being inquisitive has its draw backs. These birds see everything in their environment as their toys or food; therefore they can chew on electric cords or tear up those cherished keepsakes, so keep this in mind when you let them out for fun and exercise. Also, because they are so intelligent they sense our mood and often get in that same mood too; i.e., if you are angry they get angry, if you are happy they are happy. Remember, approach your bird as a friend and family member and enjoy a happy and lifelong companionship with your lovable giant, the Green Wing Macaw.