For any kind of bird that comes across your path, a nice pair of binoculars will show you almost everything you want to see about the bird including its fine details, popping out its colors, and enhancing your chances of identifying what you have seen.
Most people go out for sightseeing and see some amazing birds, landscape, or other creatures they wish they could see at a closer range. Well, if you are one of such persons, then the solution to your problem is a pair of binoculars. With a good pair of binoculars or a spotting scope, you can see your favorite birds or fascinating sights to behold at a very close range. This way, you won't have to miss some amazing moments anymore.
A common challenge most people face is finding a great pair of binoculars. There are lots of binoculars out there, and finding one that will best fit your needs and preferences can sometimes be challenging. Fortunately, we are here to reduce the burden on you, as we have done our findings and come up with some tips on how to choose binoculars.
In this article, you will find some vital things you need to consider when choosing a pair of binoculars.
How to Choose Binoculars
Binoculars are the second most used optical instruments, and they have several different uses. The very first step to choosing the right pair of binoculars is knowing what you want to use it for. This will help you to pick a binocular that best fits your needs and preferences. Listed below are some of the major uses of binoculars.
Bird Watching: There is a standard binocular for watching birds, and it's an 8x 42 binocular. To view more details on very small birds at far distances, you can go for a binocular with a magnification range of 10x or 12x with a 42mm or 50mm objective lens. Close focus and longer eye relief are also amazing features your bird watching binoculars should have.
Hunting: Binoculars with a magnification range of 7x to 10x is great for hunting. But a magnification of 12x to 16x is best for long range shooting including varmint hunting. If you go for a larger magnification, you'll need a tripod to stabilize your binocular, else you will have a very shaky view.
Theater or Concert: Wide angle compact binoculars are great for theater and concert viewing. For venues such as music concerts, theater, and opera, 4x 30, 5x 25, 8x 25, or 7x 18 binoculars are a great option.
Marine and Boating: When on the water, a binocular with a high magnification is not advised. 7x is the most commonly used magnification, but some boating buffs and mariners also choose 8x or 10x. You should use a 42mm or 50mm objective lens. The major features you need in a boating or marine binocular are rubber armoring, larger objective lens, and waterproof.
So based on what you want to use the binocular for, there is a range of specification you need to look out for. These specs will help you get the best of your viewing when using the binocular for the right purpose. Now let's move over to some of the vital things you need to consider when purchasing a pair of binoculars.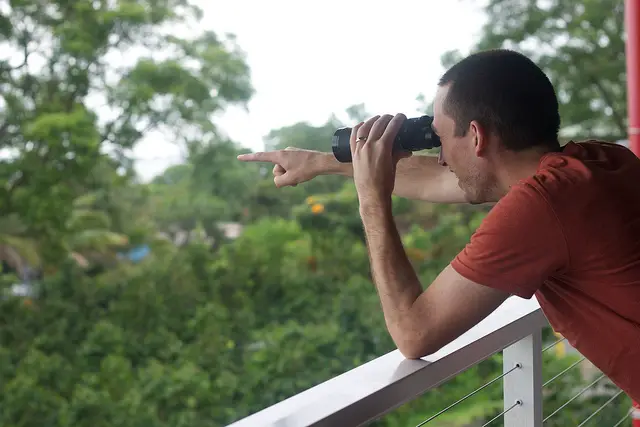 The View
Power: Binoculars are usually identified by two numbers: which are the power and lens diameter. For instance, 7 x 18 means the binocular has a magnification power of 7. This means it draws an object 7 times closer to you than your normal eyes. The larger the magnification power, the more the binocular will be hard to hold steady. So you need to go for a magnification range that you will be able to hold steady.
Exit Pupil: This is a number that indicates the brightness of an object when viewed in a low-light situation. The higher the number, the brighter the image. They are calculated by objective lens divided by the magnification power and it is measured in millimeters.
For instance, for a 7 x 50 binocular, the exit pupil is 50 divided by 7 which is approximately 7mm. Due to the way the human pupil functions, a binocular with an exit pupil of 5mm and above is great for low-light situations (including night time viewing), and an exit pupil of 2mm (minimum) is good for daylight viewing.
Eye Relief: The eye relief is the distance between your eyes and the eyepieces while you are seeing the entire field of view. The longer the distance, the more the comfort it provides, as you will be able to hold your binoculars away from your eyes and still get a full view. If you use glasses, look for a binocular with eye relief of 11mm and above.
The Glass
Prism Glass: Prism glass is of two types: BaK-4 and BK-7. Their names indicate the elements they are modified with, B for boron and Ba for barium. BaK-4 is a much better prism, and it is more expensive. We recommend you go for a binocular with BaK-4 prism if you can afford it.
Lens Coating: A fraction of the light passing through a binocular's lenses reflects away. When the amount of light passing through the lenses is reduced, it makes an object appear darker. To correct this, coatings are applied. Coatings are in levels, and each level adds more cost but enhances the image.
Protection
Armoring: This protects the binocular's body from physical harm due to corrosive elements, bumps, and bangs.
Weatherproofing: This option ranges from waterproof to showerproof to nitrogen purged. Rubber "O" rings are used for waterproof sealing. If you are an active birder, we recommend you go for nitrogen purged waterproofing.
Final Thoughts
With this information, for any bird watcher finding the right pair of binoculars shouldn't be a problem to you anymore, as we have provided you with tips and guidelines on how to go about it and what you need to know. Now that you know the various uses of binoculars, knowing what you want and choosing the perfect binocular should be easy.