Best Bird Spotting Scopes 2023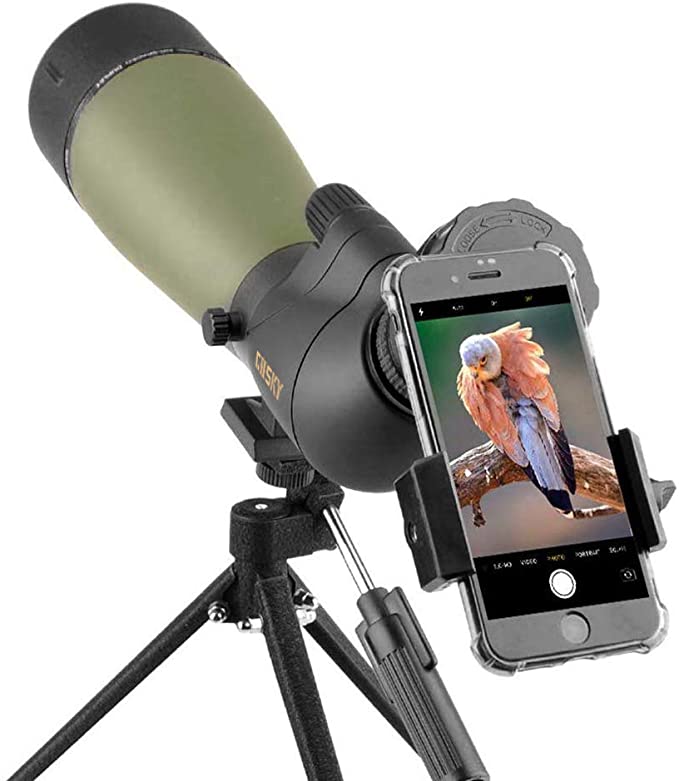 Best Mid-Range: Celestron
We Independently research, review and recommend the best products. If you buy through our links, we may earn a commission.
Bird watching is a great hobby, but the problem is that birds can be too far away when you try to watch them. You can't really get near birds because they will be scared of people due to their elusive nature. Spotting the bird can be troublesome with binoculars sometimes, because it can cause fatigue onto your hands. It is also hard to hold your phone onto them to take pictures.

A spotting scope can help solve your problems. Scopes can help you to free your hands and just set it up to view the bird spot properly. 
And for that, we have prepared a list to help you choose the best spotting scope for bird watching. Read on to find out more!
Top 5 Bird Spotting Scopes 2023
Celestron Regal M2 80ED Spotting Scope
Slightly higher on the price scale but our best overall pick would be the Celestron Regal M2 80ED. It has a stronger body and more professional lens coatings. It is coupled with XLT coatings for this bird watching scope. This basically translates to fully multi-coated optics, so you still get quality sighting overall for your bird or whatever far subject you point it to.
With a good 20x to 60x zoom eyepiece, this means that it is almost like our other Celestron product review in the article. The catch is that this one has 110 to 52 feet on its linear field of view at 1,000 yards, which makes a difference. It also uses ED objective lens, which makes it unique. You get what you pay for with these spotting scopes, as with most observation gear.
This scope has a 20mm eye relief and a standard 1.25″ eyepiece on its construction, encapsulated in a durable magnesium alloy body. It even has a t-mount adapter for DSLR cameras for the bird photographer in you. Moreover, it has a close focus of up to 21.3 feet or 6.5 meters and a twist eyecup design for added comfort when viewing.
The unit comes with a rotating tripod mount so you can easily position your scope to wherever. It is made with a BaK4 prism material and is also a waterproof unit to boot.
The Vortex Optics Razor HD is our runner-up and its able to produce high definition images due to the triplet apochromatic lens that comes along with it. These special lenses are not like others in this review – they are special lenses that are mostly only found in higher end units like these. Additionally, this gear is also easily adjustable so you will feel comfortable for birding or even photography.
It even has additional XR plus fully multi-coated lenses for added visual clarity, and is made with 16x to 48x lenses, with a 65mm objective lens and an excellent eye relief. Moreover, you can definitely use it for photography as it fits to  any SLR camera body with its design. The unit only weighs about 3.5 pounds, so it is light enough for hiking.
Giving great clarity, even when zoomed, this spotting scope has anti-reflective coatings so that your bird image can be enhanced in color and sharpness. It even has thick rubber inlays for gripping so that you get a steady image when taking a shot. It also includes a good quality tripod so that you don't have to worry about shaky shots, even for beginners in the hobby.
We chose the Gosky 20-60x Porro for an affordable pick as a spotting scope because of its good features. It has green film objective lens that are multi-coated at 80mm. You get a clearer view of the birds even from afar. In addition to that, it views well for 100 yards and even targets from 20 to 500 yards due to the optical clarity.
With a 20x to 60x magnification, it is fair to say that even for a low priced unit, it does work well. It is encased with magnalium framework for added durability to the whole scope. The construction also keeps the eyepiece intact due to the eyepiece shield that can be stretched out. Moreover, for added protection, you can lock the eyepiece into position.
The scope includes a tripod and digiscoping adapter to attach your smartphone, so that you can use your cellphone to be able to take pictures of the birds (pretty cool, huh?). As for the included nonskid parts, the rubber armor is shock-absorbing so that your scope does not get easily damaged.
In terms of quality, if you want something in the mid range bracket, the Celestron Ultima 100 is your pick. It gives you easy targeting due to the included sight tube. This helps increase the optical clarity, alongside its powerful 22x-66x magnification. This quality is also further increased due to the 94 to 52 feet of linear field of view at 1,000 yards, which is already significantly good for a scope for birding.
For user comfort, it even has soft, rubber eyecups that can be used with eyeglasses. Those who wear them will no longer have to feel left out. It is an angled spotting scope (not a straight one), in terms of design, and is coupled with multi-coated optics. You can get more magnification out of the bird subjects you are observing.
Made with bak4 prism material for better optical clarity, it is also backed by a rugged exterior so that you can use it in the great wilderness without worrying on durability. It even has multiple accessories included for fast adaptability to various cameras and gear. It also has a protective but soft carrying case to keep it away from dust. This product is a waterproof unit and is backed by a limited lifetime warranty.
The Nikon ED50 Angled FieldScope can be a great choice if you want intermediate gear for birding that is a little bit more on the middle to expensive side, but with sufficient features. If you want an easy to use and portable 50mm unit, this is a great choice for you. Like most of our picks here, it also has multi-coated lenses so it does not compromise on image quality, as expected of Nikon, after all.
It is also fog proof and waterproof structure due to the nitrogen gas, which is important for any sighting gear, so that you can be able to use it even in the pouring rain or blistering cold. As a light and easy to carry sighting gear, it is even waterproof up to 1 meter or 3.3 feet for 5 minutes (and you can test it to find out!).
With this gear, you can attach the objective lens to a 55mm filter for added functionality, and you also a choice of charcoal grey or pearlescent green for the colors. It has good eyepiece compatibility with MC and wide DS. However, do take note that while it may not do well with digiscoping, it is great for normal viewing.
As a whole, we believe that the best spotting scope for bird watching would be the Celestron 52305 Regal due to the professional XLT coatings, the ED objective lens, the 20mm eye relief for people with eye wear, the 20x to 60x zoom eyepiece and 110 to 52 feet on its linear field of view at 1,000 yards for quality images, and the t-mount adapter and a rotating tripod mount for DSLR cameras. Also, it is waterproof for bad weather.

The Celestron Regal is definitely a must-have, even with a slightly higher price. As we mentioned above, "you get what you pay for" with spotting scopes. Therefore, it is important to match the price with the features that you want. This average-priced spotting scope is, what we think, would be the best for most beginners, intermediate and advanced birders out there.
Frequently Asked Questions
What are the uses of a spotting scope?
A spotting scope is basically similar to a telescope, but with the following uses:
1. For producing an upright image from a far distance. 
What exactly sets it apart from a telescope is that it produces an upright image instead of an upside down image, as compared to a telescope's point of view. This is why it is mostly used for land viewing instead of astronomical viewing, due to how it is constructed. It is also not very good for astronomical objects due to the limits in its distance viewing.
2. For hunting and bird watching. 
We all know that for bird watching, one may stick to easy to use binoculars, but for most serious enthusiasts, it can be tough to hold your phone or DSLR camera to take photos or videos of the birds from afar, let alone monitor them for hunting. This is why spotting scopes can also be used for wildlife activities such as bird watching or hunting.
3. Ideal for target shooting, golf and similar sports. 
Because spotting scopes can have the capability to see objects from afar, it is great for spotting certain events and objects, such as golf courses, shooting targets, sporting events and the like. It can be better than binoculars if you prefer to have a hands-free way of doing things, and still get the optical quality that you want.
What makes a good bird spotting scope?
To properly choose a good spotting scope, you need to take into consideration the following criteria:
1. Magnification – this refers to how much the object is magnified by the lenses that are available in the spotting scope. Magnification can be from 60x to 80x on the average scale, but this largely depends on the weather conditions that you have, and the type of lenses that you currently have in your gear.
2. Objective lens – if you have a larger diameter for the objective lens, you can be able to see objects clearer and better with quality. This was why the last one in our review (the really expensive one) had a very large objective lens as compared to others, because it will definitely bring out the best image quality for your birds. Think of it as MP or megapixels for digital cameras and DSLRs.
3. Eye relief – this refers to the distance needed for your eyes to be able to see what's in the spotting scope, even with glasses on. This is important for glasses wearers, who need at least 14mm of eye relief in order to see the birds clearly in the spotting scope.
4. Close focus – not exactly a requirement, but it is also great to have a less than 20 feet spotting scope focus so that you can be able to use it with any DSLR or camera much better.
5. Lens coating – most lenses nowadays can be multi-coated, while some are even fully multi-coated. Coatings have the power to improve the image quality that is presented to you by the lenses, so that you can see ever single detail of the bird at hand.
6. Price – many people believe that when choosing spotting scopes, you basically get what you pay for. Do you an image quality beyond compare? Stick to the higher priced ones. If you're not that meticulous with image quality, however, and just want a good shot of the birds, then you may just settle with those from $100 to $500 at least.
What is the difference between an angled and straight spotting scope?
Many bird wacthers have argued which scope type is better, but here's the lowdown on both of them. 
Angled spotting scopes have an angled design, and tend to be more popular with digi scoping setups. Here are their pros and cons:
You can easily glass on or focus on the bird or target in question
It works very well even in bad weather
Downhill positioning is very good
You can easily make the switch between binoculars and the scope list
They tend to be more portable as compared to angled ones
They are not ideal uphill glassing.
They should only be best placed in a higher tripod
Crouching problems can cause neck pain, as compared to angled ones
Straight spotting scopes have a straight eyepiece instead of an angled one. They tend to be more ideal for violent weather. Here are their pros and cons:
You can use it for steep terrain settings
It does not strain your neck a lot
You can use it for most digi scoping setups
Shorter tripods are more welcome
 They can be bulky in terms of design and travelling
Downhill glassing can be quite troublesome for them
Collar adjustment are important for vehicle glassing
Snow and water collection can also be a problem